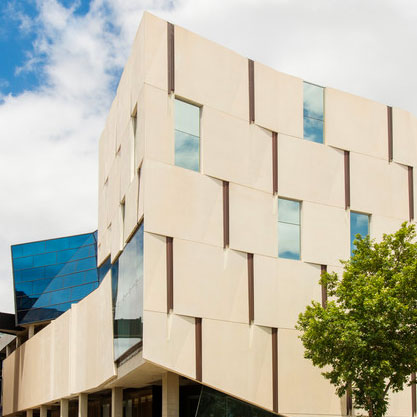 Professor Linda Zou received her PhD in chemistry from Monash University (1998). Her main research contributions are in the fields of novel nanomaterials synthesis, including ordered mesoporous carbons, conductive graphene nano-sheets and visible light sensitive TiO2/prorous adsorbent nano-composites, and their application to solve "real world" problems, in desalination and water purification. In desalination research, Dr Zou has focused on applying nanotechnology in low energy alternative desalination methods. Her contribution in developing novel carbons electrode materials in capacitive deionisation process has achieved greatly improved electrode efficiency and is received recognition internationally. Her recent research work involves...
Read more

School of Natural and Built Environments
The School plays a leading role in improving environmental and socio-economic sustainability through education and research.
Professor Linda Zou received her PhD in chemistry from Monash University (1998). Her main research contributions are in the fields of novel nanomaterials synthesis, including ordered mesoporous carbons, conductive graphene nano-sheets and visible light sensitive TiO2/prorous adsorbent nano-composites, and their application to solve "real world" problems, in desalination and water purification. In desalination research, Dr Zou has focused on applying nanotechnology in low energy alternative desalination methods. Her contribution in developing novel carbons electrode materials in capacitive deionisation process has achieved greatly improved electrode efficiency and is received recognition internationally. Her recent research work involves on developing novel membrane surfaces for low biofouling. From 2000 until now, Professor Linda Zou has been successful in receiving ten national competitive ARC grants and National Centre of Excellence in Desalination (NCED) grants. She currently leads one Discovery project and three NCED funded research projects. Her research outcomes have been well published on peer reviewed international journals and she is a regular presenter at prestige International Water Association Conferences. She is the main inventor of one international patent and three provisional patents, and has attracted substantial funding for industrial related R and D. Dr Zou is the principal supervisor of 7 PhD students. Employment history in Australia: 1999-2003 Lecturer, School of Engineering and Technology, Deakin University. 2004-2005 Senior Lecturer, School of Engineering and Technology, Deakin University. 2006-May 2008 Associate Professor, Institute for Sustainability and Innovation, Victoria University. June 2008- December 2010 Associate Professor, SA Water Centre for Water Management and Reuse, School of Natural and Built Environment, University of South Australia. January 2011- Present, Research Professor,University of South Australia
Current Member of The American Association for the Advancement of Science (AAAS),Current member of American Chemical Society (ACS),Current member of International Water Association (IWA),Current member of International Desalination Association (IDA),Current member of Australian Water Association (AWA),Fellow Member (F.I.C.C.E.) International Congress of Chemistry and Environment
Qualifications
Doctor of Philosophy Monash University

Master Of Engineering (Environmental) Asian Institue of Technology

Bachelor of Engineering( Chemical and Environmental) Beijing University of Technology