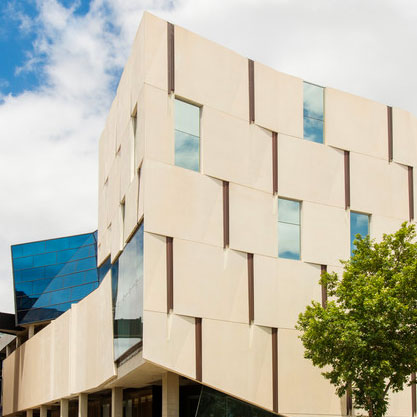 Welcome to my homepage! P align='justify' Dr Mohammad Kamruzzaman is a prominent early career researcher (ECR) in the field of Statistical Hydrology in the Centre for Water Management and Reuse (CWMR) at the University of South Australia (UniSA). Dr. Kamruzzaman's research has been involved in sustainable water management relating to climate variability and climate change through scenario based assessments and climate modelling. This work is leading to better projections using advanced modeling techniques for a comprehensive range of future climate scenarios of large-scale catchments and urban water systems. The group has developed models using multivariate time-series analysis to detect trends and seasonal effects, extreme climatic...
Read more

School of Natural and Built Environments
The School plays a leading role in improving environmental and socio-economic sustainability through education and research.
Welcome to my homepage! P align='justify' Dr Mohammad Kamruzzaman is a prominent early career researcher (ECR) in the field of Statistical Hydrology in the Centre for Water Management and Reuse (CWMR) at the University of South Australia (UniSA). Dr. Kamruzzaman's research has been involved in sustainable water management relating to climate variability and climate change through scenario based assessments and climate modelling. This work is leading to better projections using advanced modeling techniques for a comprehensive range of future climate scenarios of large-scale catchments and urban water systems. The group has developed models using multivariate time-series analysis to detect trends and seasonal effects, extreme climatic events, evidence of long-term memory and step changes, volatility forecasting, and Monte Carlo simulation analysis of climatic phenomena in the South East Murray Darling Basin (MDB). Currently, Dr Kamruzzaman is working on the Goyder Institute Climate Change project with Prof Simon Beecham. This four and half year research project involves significant collaboration with DEWNR, SA Water, SARDI and CSIRO as well as all three SA universities. P align='justify' Dr Kamruzzaman's has Graduated in Statistics from A HREF=http://www.sust.edu/ target="_blank Shahjalal University of Science and Technology, Bangladesh,A HREF=http://www.liu.se/?l=en / target="_blank International Master Program in Water Resources and Livelihood Security, Linköping University, Sweden and a PhD in Analysis of Governance and Sustainable Development conferred by A HREF=http://www.unive.it/nqcontent.cfm?a_id=1 target="_blank Cà Foscari University of Venezia/A HREF= http://www.univiu.org/index.php target="_blank Venice International University, Venice, Italy . As part of his doctoral studies with the International University of Venice, Dr Kamruzzaman undertook a two and half year "Occupational Traineeship" with supervisor Beecham and co-supervisor Metcalfe working on their joint ARC Discovery project DP0877707. Dr Kamruzzaman research has compared sustainable water management practices in the Ganges River Basin (GRB) and MDB in Australia. During this time, Dr Kamruzzaman has served as a lecturer, tutor and marker in the International Masters of Water Resources Management program in collaboration with the International Centre of Excellent in the Water Resources Management (ICEWarM). He has also worked as a tutor in the School of Mathematical Science at University of Adelaide (UoA) with co-supervisor Metcalfe. As part of UniSA and UoA's ARC Discovery project, Dr Kamruzzaman has produced some outstanding results and has published well in top ranking international journals in the field of statistical hydrology. P align='justify' Dr Kamruzzaman broad area of research interest is sustainable water management practice, In terms of research, Dr Kamruzzaman believe, conventional modelling techniques could minimize uncertainties of climate variability and climate change through scenario assessing and climate projection. To this end Dr Kamruzzaman research through to develop hydrological model and in particular statistical techniques. http://www3.clustrmaps.com/user/de5f4b65 img src="http://www3.clustrmaps.com/stats/maps-no_clusters/people.unisa.edu.au-Mohammad.Kamruzzaman-thumb.jpg" alt="Locations of visitors to this page" /
Member, Statistical Society of Australia Inc (SSAI),Member, American Geophysical Union (AGU),Member, International Association of Hydrological Sciences (IAHS),Member, Asia Oceania Geoscience Society (AOGS),Member, Bangladesh Statistical Association (BSA),P align='justify'Reviewer, International Journal of Climatology; Quarterly Journal of the Royal Meteorology Society; Journal of Hydrological Engineering; Hydrology and Earth System Sciences (open sources); Water and Environmental Journal; Journal of Earth System Science,P align='justify'Conference Panelist water session "Community based adaptation to Climate Change" conference 2013, Dhaka, Bangladesh;Chair Person Technical session EnCon 2012, Kuching, Sarawak, Malaysia