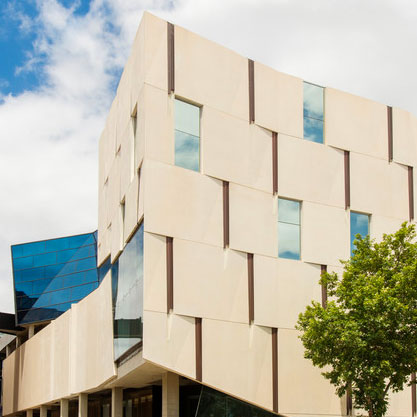 For as long as I can remember, I have been keen on physical fitness and sport, dating back to when I exercised for general fitness and played sport as a kid. I considered myself somewhat of an athlete when I was young, and at my best I won a few state championships in athletics. In the late 1990s when I learned that I was going to be a dad for the first time, I was keen to pursue research that combined my passion for fitness and sport with my goal of improving the long-term health of not only my children but all children. This is why my research has principally focused on the fitness, activity and adiposity of young people, with a special interest in how different populations have changed over time.As you may know your fitness level is an...
Read more

School of Health Sciences
Offering a broad range of programs in physiotherapy, occupational therapy,human movement, and other health sciences.
For as long as I can remember, I have been keen on physical fitness and sport, dating back to when I exercised for general fitness and played sport as a kid. I considered myself somewhat of an athlete when I was young, and at my best I won a few state championships in athletics. In the late 1990s when I learned that I was going to be a dad for the first time, I was keen to pursue research that combined my passion for fitness and sport with my goal of improving the long-term health of not only my children but all children. This is why my research has principally focused on the fitness, activity and adiposity of young people, with a special interest in how different populations have changed over time.As you may know your fitness level is an important indicator of how healthy you are now and will be in the future. If you are generally unfit now then you are more likely to develop conditions like heart disease later in life. While you can be fit in different ways, not all types of fitness relate well to health. The most important type of fitness for good health is aerobic fitness, which is your ability to exercise vigorously for a long time. I have long been fascinated by the question of whether today's young people are fitter than their parents or grandparents were when they were young, and have spent the past decade or so gathering historical fitness data on over 75 million young people from 50 countries dating back to the mid-1800s trying to answer it. Using a systematic review strategy and novel mathematical techniques, my research was the first to conclusively show that young people's aerobic fitness has declined worldwide since about 1975. Young people today are about 15 percent less aerobically fit than their parents were when they were young. And to make matters worse, it is likely that the largest declines have occurred in young people with low fitness. In 2013, my fitness research generated more than 760 international media stories and reached 400 million people, and I have been credited with bringing about the largest media story in the University of South Australia's history.I have earned a Bachelor of Sports Science (Exercise Science) degree from the University of New South Wales, and a Bachelor of Applied Science (Honours) degree and a Doctorate (PhD) in Human Movement from the University of South Australia. I am a Senior Lecturer in the School of Health Sciences at the University of South Australia. I am the Chair of Active Healthy Kids Australia (AHKA), the Asia-Pacific Lead for the Active Healthy Kids Global Alliance (AHKGA), the Project Director for the $1 million Anthropometric Survey of the Royal Australian Navy (ASRAN), and a Young Tall Poppy. I was the Chief Lead Investigator on Australia's first Report Card on Physical Activity for Children and Young People in 2014, and the Project Director on the $1.2 million Australian Warfighter Anthropometric Survey (AWAS). Chance favours the prepared mind Louis Pasteur
Active Healthy Kids Australia (AHKA),Active Healthy Kids Global Alliance (AHKGA),Healthy Development Adelaide (HDA),International Society for the Advancement of Kinanthropometry (ISAK),South Australian Cardiovascular Health Research Network (SACHRN)
Qualifications
Doctor of Philosophy University of South Australia

Bachelor of Applied Science University of South Australia

Bachelor of Sports Science The University of New South Wales